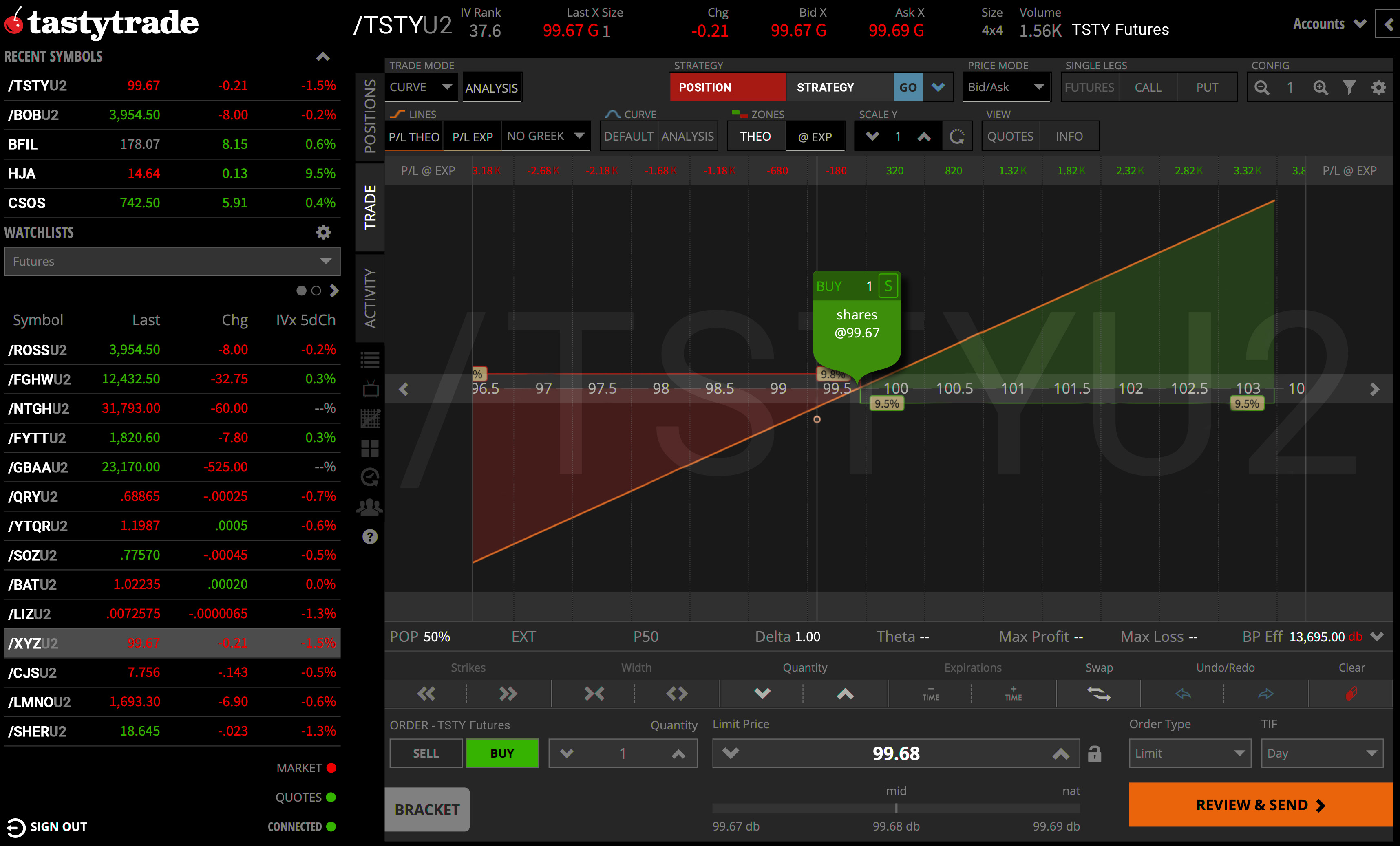 Trade futures contracts that cover a wide range of asset classes & market sectors. These capital-efficient contracts can give you exposure to market sectors such as indices, currency, interest rates, commodities and cryptocurrency.
WHY TRADE FUTURES AT TASTYTRADE?
CHOOSE FROM A BROAD RANGE OF MARKETS
ACCESS THE PLATFORM ACROSS DEVICES
Enjoy fast platform execution speeds for speedy order routing
Explore futures products across a range of markets to find the right opportunities for you
Trade flexibly from anywhere on one of the tastytrade platforms–desktop, browser or mobile
GET TRANSPARENT COMMISSIONS AND FEES
TAKE YOUR CAPITAL FURTHER
Open a futures position from just $0.25 and know exactly what fees you're paying for¹
Get a higher potential return on capital using leverage², including standardized futures with the smalls
Enjoy versatility in managing your IRA the way you want with futures, futures options, and micro futures
WHICH FUTURES PRODUCTS AND
MARKETS CAN YOU TRADE WITH TASTYTRADE?
The CME Group (Chicago Mercantile Exchange) offers some of the most commonly traded futures products.
2 Year T-Note (/ZT)
5 Year T-Note (/ZF)
10 Year T-Note (/ZN)
30 Year T-Bond (/ZB)
Three-Month SOFR (/SR3)
Micro 2-Year Yield (/2YY)
Micro 5-Year Yield (/5YY)
Micro 10-Year Yield (/10Y)
Micro 30-Year Yield (/30Y)
Ultra 10-Year U.S. T-Note (/TN)
Ultra U.S. Treasury Bonds (/UB)
E-mini S&P 500 (/ES)
Micro E-mini S&P 500 (/MES)
E-mini Nasdaq 100 (/NQ)
Micro E-mini NASDAQ 100 (/MNQ)
E-mini Dow 30 (/YM)
Micro E-mini DOW (/MYM)
E-mini Russell 2000 (/RTY)
Micro E-mini Russell 2000 (/M2K)
Euro FX (/6E)
Micro Euro (/M6E)
Japanese Yen (/6J)
British Pound (/6B)

Micro British Pound (/M6B)
Canadian Dollar (/6C)
Micro Canadian Dollar (/MCD)
Australian Dollar (/6A)
Micro Australian Dollar (/M6A)
Crude Oil (/CL)
Micro Crude Oil (/MCL)
E-mini Crude Oil (/QM)
Henry Hub Natural Gas (/NG)
E-mini Natural Gas (/QG)
Gold (/GC)
Micro Gold (/MGC)
Copper (/HG)
Silver (/SI)
Micro Silver (/SIL)
Corn Futures (/ZC)
Mini Corn (/XC)
Soybean (/ZS)
Mini Soybean (/XK)
Chicago SRW Wheat (/ZW)
Mini Chicago SRW Wheat (/XW)
Bitcoin (/BTC)
Micro Bitcoin (/MBT)
Ether (/ETH)
Micro Ether (/MET)
Lean Hog (/HE)
Live Cattle (/LE)
CBOE GLOBAL MARKETS FUTURES
Small 2-Year U.S. Treasury Yield (/S2Y)

Small 10-Year U.S. Treasury Yield (/S10Y)
Small 30-Year U.S. Treasury Yield (/S30Y)

CBOE Volatility Index (VIX) Futures (/VX)
CBOE Mini Volatility Index (VIX) Futures (/VXM)
Use differentiating technology with purpose-built features
Trade on a platform with cutting-edge capabilities that are ready for next generation needs.
Speculate on both rising and falling prices
Take a position on ever-changing market movements to go long or short.
Enhance your market awareness using fresh content
Get expert insights from the Follow Feed and video feed to unlock potential opportunities.
WHAT IS A FUTURES CONTRACT?
Understand how futures trading works

Choose your preferred market and asset

Create a trading plan and manage your risk

Open your futures position and monitor it

Close your position if you want to do so before the contract expires²
A futures contract is an agreement between two parties, a buyer and a seller, to trade a particular asset at a set price before a certain expiration date.

Regardless of what the underlying asset's market price is at the time of the trade, the contract price will fluctuate and profits or losses can be realized prior to expiration by closing the trade.
1. Commission on Smalls futures products is $0.25 per contract. All Smalls futures trades incur a clearing fee of $0.05 per contract plus exchange and NFA fees. View all commissions and fees here.
2. Increased leverage can result in significant losses in the event of adverse market conditions.
tastytrade, Inc. ("tastytrade") does not provide investment, tax, or legal advice. tastytrade's website and brokerage services are not intended for persons of any jurisdiction where tastytrade is not authorized to do business or where such products and other services offered by the tastytrade would be contrary to the securities regulations, futures regulations or other local laws and regulations of that jurisdiction. Options involve risk and are not suitable for all investors as the special risks inherent to options trading may expose investors to potentially significant losses. Please read Characteristics and Risks of Standardized Options before deciding to invest in options.
Futures accounts are not protected by the Securities Investor Protection Corporation (SIPC). All customer futures accounts' positions and cash balances are segregated by Apex Clearing Corporation. Futures and futures options trading is speculative and is not suitable for all investors. Please read the Futures & Exchange-Traded Options Risk Disclosure Statement prior to trading futures products.
Cryptocurrency transaction and custody services are powered by Zero Hash LLC and Zero Hash Liquidity Services LLC. Cryptocurrency assets are held and custodied by Zero Hash LLC, not tastytrade. Services may not be available in all states. Cryptocurrency assets are not subject to Federal Deposit Insurance Corporation (FDIC) or Securities Investor Protection Corporation (SIPC) coverage. Cryptocurrency trading is not suitable for all investors due to the number of risks involved. The value of any cryptocurrency, including digital assets pegged to fiat currency, commodities, or any other asset, may go to zero.
tastytrade, Inc. was formerly known as tastyworks, Inc.
© 2017-2023 tastytrade, Inc.
Copyrights, logos, and trademarks are property of tastytrade, Inc. All rights reserved. tastytrade, Inc., member